Wow, I am so excited to write about this. We are finally at the Business Camp. Here we will create our first game for children. And it all will happen in just 24 hours. The start is tomorrow. So check it often, we will be posting updates!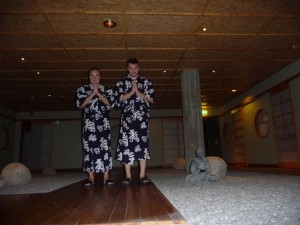 Long story short
We are two young entrepreneurs, Ole and Vlad. Our vision is to create simple and yet useful apps for kids. We are starting right now, and will be creating our app during the Business Camp.
There are more than 4o teams here, all with their own ideas, all will be implementing them tomorrow.
The event is held at Japanese Spa Hotel, so everyone is wearing a bathrobe, which makes it cool. Of course everyone looks the same, but the atmosphere is great!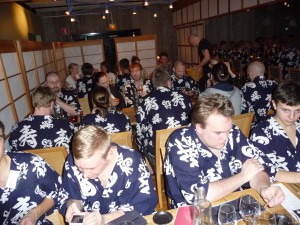 Today the event was just warming up. We had a diner and then went back to our room and prepared for tomorrow. And indeed there is much to do! Finding music, sounds, pictures, finalizing the design and actual game flow. Intense and exciting!
Our idea
The main idea of our game is to help children learn different animals and the sounds they make. At the same time it has to be fun to play, be nice and colorful.
There will be two parts in the game.
In the first part, the child is learning what sound the animals make. For example, press the dog and it will bark. Press the rooster and it will crow. Simple.
The second part is more tricky. We show several animals at the same time and play a sound one of them makes. Now it is time to guess, who makes such sound! The kid has to touch the right animal – and it will dance!
It will be nicely packaged into the Windows Phone 7 application. And it will happen very soon. Follow us on facebook or twitter, and make sure not to miss it!
Does it all sound interesting? Let us know in the comments! Thanks!