Can you imagine this: Saturday evening, you do not have to hurry anywhere, you can enjoy and spend time with your beloved ones. Perhaps you had a nice dinner – one of those great ones – with perfect food, enjoyable atmosphere, some nice music and candles.
And suddenly your child starts to look for something. He or she checks out the drawers, the table in the kitchen, the pocket of your jacket  – the places where you usually keep your iPhone. He finds one. Starts it up and wants to play. But all you have are these old boring games he played for months now. Such a perfect evening can't be spoiled… Your child must get something new!
If this Saturday is tomorrow – you are saved. Because there is something new. There is something that can surprise and entertain him. There is something that can even teach him a bit. It is called Moo for Kids. Finally released for the iPhone and coming up this Saturday – 17 December. Right before the Christmas. Right before the New Year. Relax and enjoy!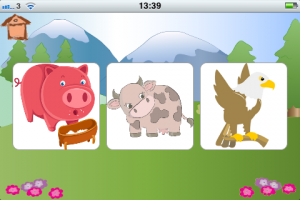 What is Moo for Kids all about?
Moo for Kids is a nice cute game for little children. It is fun, entertaining and educational at the same time.
There are two parts in the game. In the first one children can learn different animals and the sound they  make – kids scroll through the animals, touch them and listen to the sounds. It is fun, it helps to develop the eye-hand coordination and teaches the child what different animals "say".
In the second part 3 animals are shown and a sound is made. Now the kid should guess, which animal is that! If he does, the animal will dance for him – another round of laughing and giggling guaranteed! At the same time the memory and associative thinking are working and being developed. Children not only learn something – they apply it in the game right away.
Ok, how can I get it?
As said, Moo for Kids appears at the AppStore tomorrow, 17 December. I will post a link here as soon as it happens. Update: our first iPhone app Moo for Kids on the AppStore. Please check it out and let us know what you think!
If you have any questions or want to share your thoughts – be my guest in the comment section below! Thanks!