I am glad to present you our first iPad app for kids today. We have taken the idea behind Animal Tiles for Kids and re-packaged it for the iPad – updated the graphics, changed the animals, added much more fun animations.  It is called Animal Tiles for Kids HD. Give it a try!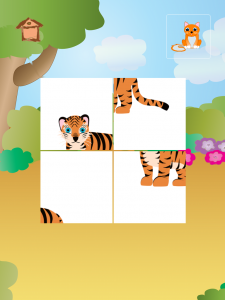 Animal Tiles for Kids HD
With a video being baked right now, we will try to describe the game with words and pictures. Very soon you will be able to see it in action on YouTube as well.
The game allows your kids to take their first steps in puzzle solving. It is a useful and fun activity everyone of us has engaged in the childhood. Now kids can just do that on the iPad.
Drag the tiles and place them into the right place – and our animals will give you and your kids a fun performance. You will also learn different sounds they make. We have plenty of animals to keep your little one engaged while you are driving a car or preparing a dinner. Having a good laugh together is another great option too!
What's coming next?
We are updating our other apps with the new animations and animals as well. So the owners of our Animal Tiles for Kids and Moo for Kids apps should receive the updates shortly.
We are sure that you will like the game and suggest you to check it out. If you have any questions or comments, you can let us know in the comment section! Enjoy!